For those of you who don't know, Clueless is the original Mean Girls. And Cher Horowitz is the original Regina George, except she's smarter, prettier, nicer, and dresses way better. But she's still the Queen Bee, and she walks around Beverly Hills High like it's a runway.
So, why is Clueless still relevant? It was released 1995, a time everyone was totally buggin' and people actually used Noxzema (eww... as if!). But, there is nothing that compares to the fashion in that movie. And, with the release of Iggy Azalea's music video for "Fancy," which shows her take on this classic film, Clueless is more relevant than ever. So when someone told me on Tuesday that my outfit looked like something Alicia Silverstone would wear, I couldn't help but fangirl on the inside because, seriously, who doesn't want to be Cher? She's like Barbie but with a better vocabulary and more friends (although she has a hard time finding her perfect Ken, who ultimately ends up being her Dad's second wife's son).
It's hard to say that the outfits in Clueless are timeless, because they really aren't. But that doesn't mean you can't still dress like Cher, Dionne, Amber, and Tai (new Tai, not old Tai). Everyone loves a good #throwbackthursday, right? Dressing like a 90's girl is easy with a few wardrobe adjustments!
Image Source: Scout It Out.com
Image Source: You're a Tulle.com
Okay first thing's first. Tartan makes up a big part of the wardrobe in Clueless. This pattern is very similar to plaid, and although they really are not the same, they can basically be used as synonyms. Cher's iconic yellow tartan suit is so fashionable, but it's hard to pull off something like that today.
This outfit still has the preppy tartan look, but it's simpler than Cher's outrageous suit. This adorable skirt from ASOS is really similar to Cher's skirt, and it looks great paired with a simple white button down (I feel like I'm always promoting white button-downs). Nothing says "I HEART THE 90s" like a pair of white knee high socks (go dig up those old soccer socks from that "attempting to be athletic" phase). Finish off the look with classic Prada mary jane shoes.
Image Source: Huffington Post Style.com
Next step: jackets, sweaters, and button-downs (more? yes!). Statement jackets, like Cher's blazer, can easily be used to make simple outfits totally trendy (see some statement jackets I love here, here, here, and here). Now, the button-down-sweater combo is typically a winter look, but it can be adapted for mild summer days by wearing lighter materials.
This J.Crew sweater is super light and perfect for warmer weather! It's really soft and comes in great colors (I own it in pink, navy, and red). Pair it with this button-down top! To make this look even more Clueless-esque, wear a button detailed skirt. Basically, buttons and collars are a MUST. These simple outfits will help you make an easy adjustment to 90s style, and before you know it, you'll be "rollin' with the homies."
On the surface, Clueless is just some chick flick. But, it actually has some pretty good lessons. Like... never accept an unfair grade.
Image Source: Cosmopolitan.com
Don't feel pressured to be with just any guy.
When in doubt, roll your eyes and say...
And never EVER become a Monet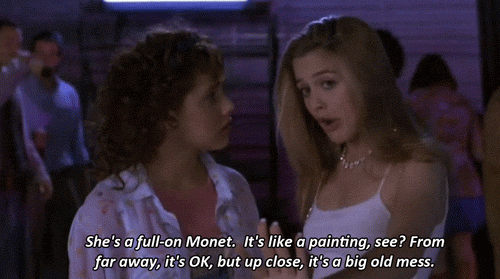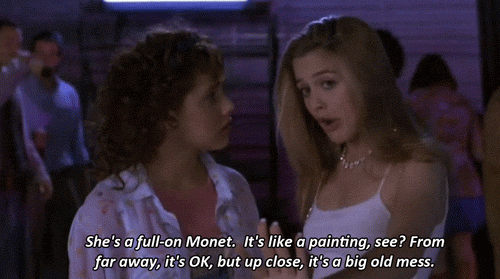 There really is nothing quite like 90s fashion. After watching this movie today, I'm pretty sure I'll be making Cher proud with my outfit tomorrow.