I have a confession. I'm obsessed with manicures. I can't help it; I'd get my nails done every week if I had the time. I think it's very important to have presentable and well-groomed nails, so when I discovered Shellac Gel Manicures, I basically felt like this...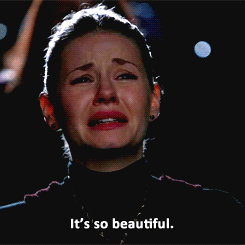 Now that I've gone gel, I'm never going back. I go to a local salon once a month to have my nails done for $40. Here are some of my most recent manicures:
This is back when my nails were adorable and short. I got a light pink color called Cake Pop for this gel manicure.
I loved my first manicure so much, that I got the same color the next time! My nails grew A LOT with the first month of gels.
For my next manicure, I went with a hot pink shade called Gotcha. It's much brighter in person, but it's such a fun and girly color!
For my most recent gels, I went with the classic French Manicure. It's elegant, timeless, and makes my nails look so long! I love gel manicures because they last for about a month, and they don't harm your nails like tips. The only downside is that you have to pick one color for a whole month (which is a very difficult decision) and as your nails grow longer, a gap between where the gels began and your nail line becomes very obvious. But, I LOVE gels because they look great and improve your nail length! *Just a side note: there is some speculation that gel nails may increase your risk of skin cancer due to the use of UV Lights (similar to those used in tanning beds). Always sunscreen your hands before you go to get a gel manicure!